Dear Wednesday - What Are You Fighting For: The Birthplace of Motivation
What Happened to Your Inspiration? Uncover the Joy You Lost. Inspire Your Greatest Life Now. Sign up for the February 2020 Daily Leap Challenge Now.
This month's theme is 2020 vision. It is not only a new year but a new decade and a new season. During this time we want to encourage you to dream big and make progress towards those dreams. In order to do so, you must have a vision and you must learn how to work that vision. So come along as we continue to venture through our first blog set of the year, the January Dear Wednesday Letters. Theme: 2020 Vision.
During a conversation with my friend the topic of motivation came up. We asked ourselves, how do people get motivated. What do people think they need in order to be motivated?
We noticed that many people jump in to fad diets, popular workout plans and even undergo entire makeovers in an attempt to somehow change the trajectory of their story. There is a notion that by changing something physical there will also be a shift in your mental being.
My friend asked a very poignant question during that conversation, she said:
"What are you fighting for?"
Frankly, I do not believe most people know what it is they are really fighting for.
If you were to say you want to get motivated, what do you do to find this motivation? Do you watch YouTube videos, Tic Tok's? Is motivation derived from the desire to prove others "wrong", like the Kardashian series Revenge Body? Think about it! Does your motivational source have anything to do with your vision? I know these are a lot of questions but I want to provoke you today. I want you to get frustrated and begin to ask yourself some questions.
Now that you have thought on it a little, ask yourself:
Have my previous attempts to muster up the gumption, grit and courage to accomplish my vision been successful? If not, why do you think that is?
Well, I believe it is because motivation (the will to fight for something important to you regardless of how difficult things get) comes from an internal place. A place deep within you that is solidified and grounded in confidence, understanding of your purpose, love for the way you were created, and appreciation for a process of growth and maturity. It is a place of inner peace with oneself yet balanced out by an intense passion for the things you were called to create.
Motivation sounds simple but the ability to push towards your vision until it comes to fruition takes much more than a cute quote. 
So, my beautiful Dear Wednesday Women, while you are grinding out those vision steps I invite you to accompany your vision-work with self-work. To begin this journey, I have a small task for you to complete.
In your 2020 Vision journal (if you don't have one then it is time to invest in one):
Make a list of all the things, people, places… that are motivating you right now.

Beside each item write down what it is about that thing that motivates you?

Lastly, beside each item answer this question: If this (thing/outside motivator) were taken away, would my motivation flee as well?
The point is to see what you are relying on. Outer motivations WILL eventually dull out or even fall away. But Inner stability is like the ocean. It is life giving, sustaining, it can move around, it can be kicked, punched, treated badly and walked (or sailed) over but in all of that it still remains fluid. It doesn't dry out or sink back; it KEEPS MOVING. You must have this kind of inner motivation, the kind that keeps going when others have stopped. This will to push forward is how your iPhone was created, this is why we now have everyday items like windshield wipers, it's why you have that good Remy hair and those beautiful acrylics, because someone had a vision and the inner fight to make it happen.
So, I ask you once more, what are you fighting for?


Brought to you by AshleyMarcel
P.S. Like what you read? Join our community now!
This Dear Wednesday Letter was hand-crafted by AshleyMarcel an Administrative Guru, Public Health advocate, Graduate Student, Mentor, Motivator and Cultural Enthusiast. Ms. Marcel has worked closely with both men and women both domestically and abroad helping to build stronger communities and healthier people. She has worked in the administrative world for over five years and is currently studying public health research. Look out for Ms. Marcel, there is much more to come! You can find AshleyMarcel on social media @anwilli7 on IG.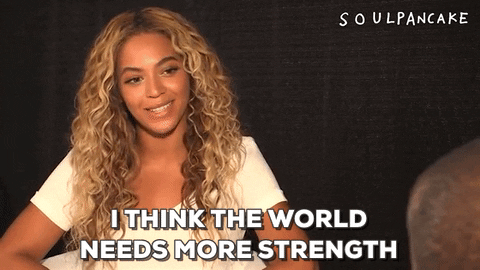 #wednesdaywisdom #motivation #women #2020vision #growyourmindset #determination #blogstowatch #hustleandgrind